You've got your stock levels in place, you've researched your marketplace, you've even got your prices as competitive as possible and you're ready to go. Now how do you get people to buy from you online?
Whether you're in the market for a brand new e-commerce website or are considering a fresh approach to your existing online business, you really need to give Creativeworld a call today.
We can drive loads of traffic through to your site via our excellent Social Media and SEO strategy services – but what happens when your new visitors arrive at your site, then leave pretty much straight away because your site looks awful? Probably No Sale!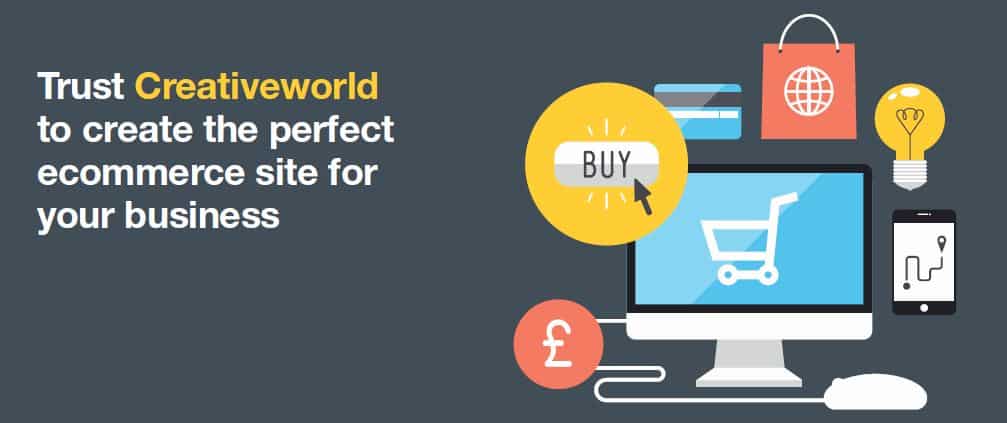 At Creativeworld, our team of experts really understand what's needed to develop your e-commerce website, so that not only will it be appealing to your visitors, it will make you money – after all that's why you need an e-commerce site isn't it?
Your e-commerce website should be regarded as your 'shop window' to the whole wide world, but if your window display looks dull, boring or unprofessional, why on earth would anyone want to venture inside?
On the high street, passing trade will always pause to look if your 'shop window' looks great and will be encouraged to step inside. Once inside they MUST be able to browse freely to see what you have to offer, investigate your goods, and ask for friendly advice. Then once they've chosen what they like, be able to pay for it easily, securely and quickly without queuing. The same basic principles apply to an e-commerce website.
Whether your target customers are B2B or B2C, the key things that must be focused on are:
Getting your Branding Right – Your brand will be the first thing people should see when they land on your site so it needs to be memorable. We can do this for you too!
Making sure it works on any device – With more and more people using mobiles of tablets to surf the web, your site HAS to be usable across all platforms.
Having High Quality Product Images – People want to see what they're getting. Ideally the more the better and making sure you show your products from different angles, in context, and make them enlargeable.
Providing Great Product Descriptions – The purpose of good product text is to give potential buyers enough information so they can convince themselves that yours is the right product for them. Ideally a concise and a full length version to give them the option.
Showing Customer  Reviews – Nothing sells a product better than customer reviews so making sure your potential customers can easily check out what others have said is a must!
Including Product Videos – While a picture can say a thousand words – a well-produced video can convey a whole array of information and is the next best thing to actually touching and feeling a product. Creativeworld will do this for you too.
Offering Sensible Shipping Costs – Studies have shown that the unconditional offer of 'Free Carriage' is the number one criteria when clinching an online sale . Companies that offer 'Free Shipping', for instance on orders over £100.00 see a huge increase in their sales. Think about this the next time you visit Amazon. 'Free' really is is in a league of its own!
Displaying Sale Items and Specials – Have specific sections for items 'On Sale' or 'Seasonal Specials' – and make these areas very easy to navigate to from anywhere on your site.
Having an Easy to use and Trustworthy Checkout – Nothing puts people off more than having to type in 'War and Peace' before they can buy their items. So keep in simple by offering as many ways of accepting your customer's payment ,such as PayPal, as you can – that way you will avoid the dreaded 'Shopping Basket Drop-off'. Likewise having full SSL certification is a must as this will give the user confidence that they won't get ripped off.

These are just few of the basics but there are of course many, many more considerations that we will guide you through when devising and constructing your new e-commerce website. Our strategic planning will form the basis of a robust e-commerce platform that will serve you very well… long into the future.
If what you've read here has 'struck-a-cord' then make sure you contact David Bates and the Creativeworld Team to arrange a 'no-obligation' meeting to see how #Teamcreative can help you grow your business.