Here we are. November.
That came around quick didn't it? Halloween is over, but we feel that some of our colleagues are still wearing their costumes to work today? Anyway, what do we have to play with this month on social? Here's your November Social Media Calendar.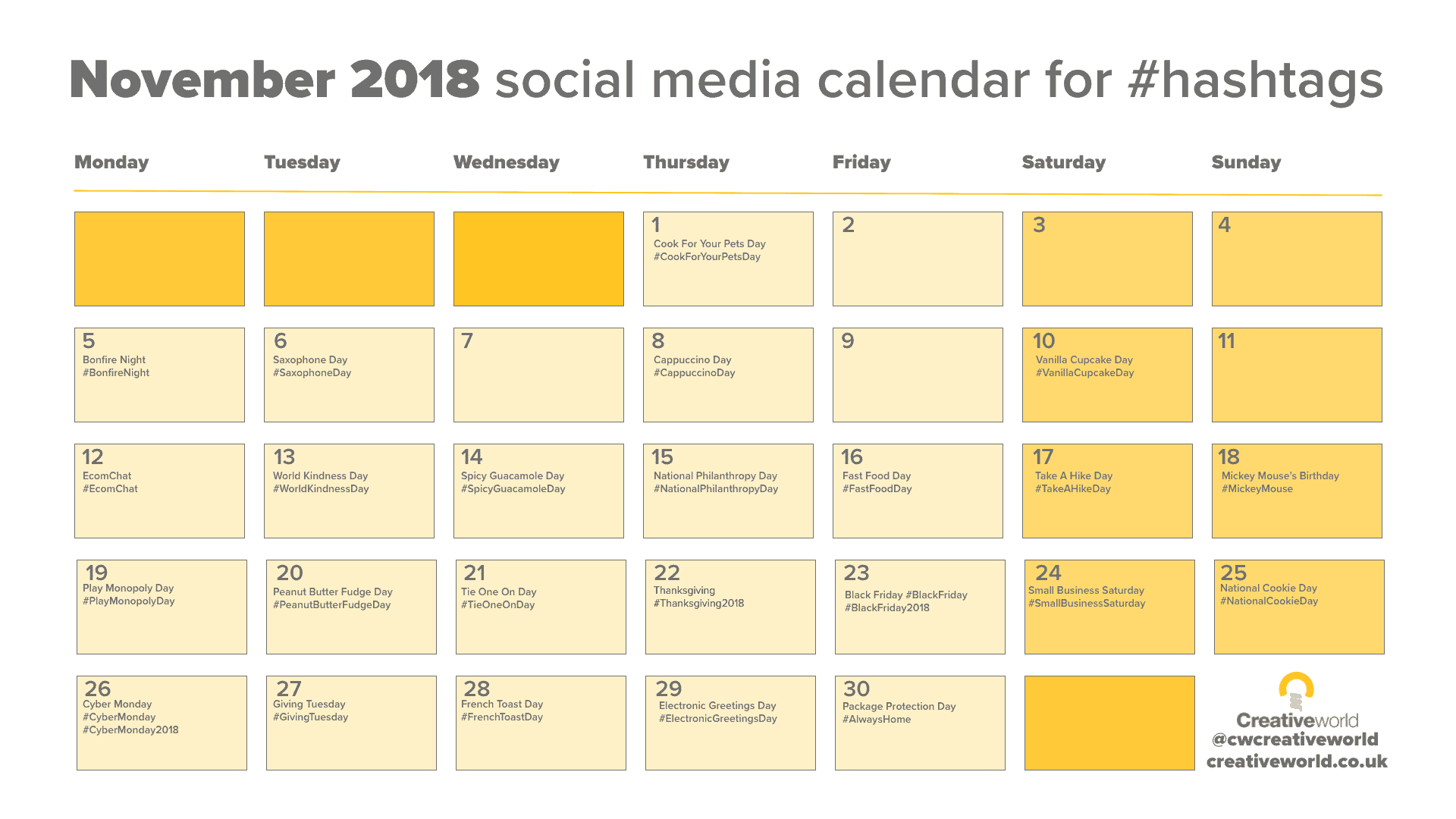 Fancy cooking for your pets? ?
Every month we see some pretty bizarre hashtags on social media, but this one really takes the kibble. Have you ever met someone whose pet eats better than you? Well, the 1stof November is definitely a day for them as its #CookForYourPetsDay, also a day which some of the crazy cat people here will certainly be relishing in. Does anyone in your office feed their pets outlandishly good food? Maybe join in the conversation then!
Remember remember the 5thof November…?
How can we possibly forget when that line was patronisingly pumped into our heads from being little? Is there a local bonfire near you? Why not go as a team and get some great #BonfireNight content to go out? There will be plenty of great video content opportunities to be had, such trying to see who can write their name fastest with a sparkler!
A big month for deals…
Towards the end of the month, there are some hugely important days for your business if you're in the B2C game. Yes, #BlackFriday and #CyberMonday are looming closer! These are days that hold massive opportunities to get new customers by promoting deals on social media, definitely not one to miss! Even if you're a B2B company, think about what you could offer clients on these dates. Also, a great opportunity to snap up some reasonably priced Christmas presents…I know I said the C word!
There's plenty of conversation to get involved with this month. Which dates are you going to save for your social media calendar? Let us know!
Download your November Social Media calendar here
Feeling a bit lost on social? We can help you! Get in touch for a free consultation on how Creativeworld can help with your social media strategy.
Call us on 01282 858200