Lancashire & South Cumbria
Suicide Prevention Campaign
The brief
Creativeworld Health were approached by Lancashire and South Cumbria Integrated Care System (ICS) to tender for the marketing and communications to deliver a suicide prevention campaign to reduce the number of suicides across the region and to alleviate the stigma attached to suicide.
Our solution
The core message that drives the campaign for suicide prevention is  'Let's Keep Talking', co-developed in partnership with service users and those involved within mental health services and we have developed design concepts for various communications tools tailored to the campaign's four different key target audience segments (identified through research); children and young people, middle aged men, elderly people and parents with young children.
We identified the most effective methods of reaching these audiences, including both offline and digital healthcare marketing methods, subsequently delivering a wealth of communications tools using the designs consistently across all campaign elements.
The content has been co-developed in partnership with Healthy young minds, local youth groups and educational organisations we collated information to help support the system as well as the campaign.
Regular stakeholder sessions alongside the input from the Police and other organisations enabled us to put together a strong campaign that would resonate with the audience with high impact, we were also able to target specific areas that were known to be hot spots.
The whole system benefited from being connected, this is one of the main drivers of success and that partners continue to be involved and engaged throughout the campaign.
From the research and insight undertaken we identified vulnerable groups and were able to target these through campaigns both online and offline. We created digital ads, bus shelters, phone kiosks, posters, info leaflets and animated videos in 6 different languages for each stage of the campaign, these were shared through the partnership networks, community groups etc.
The "calls to action" were to signpost people to mental health support and also Samaritans. The impact of the campaign helped the to win an award at the 2020 HSJ awards.
In September 2022 the campaign focused on the cost of living crisis and is featured below.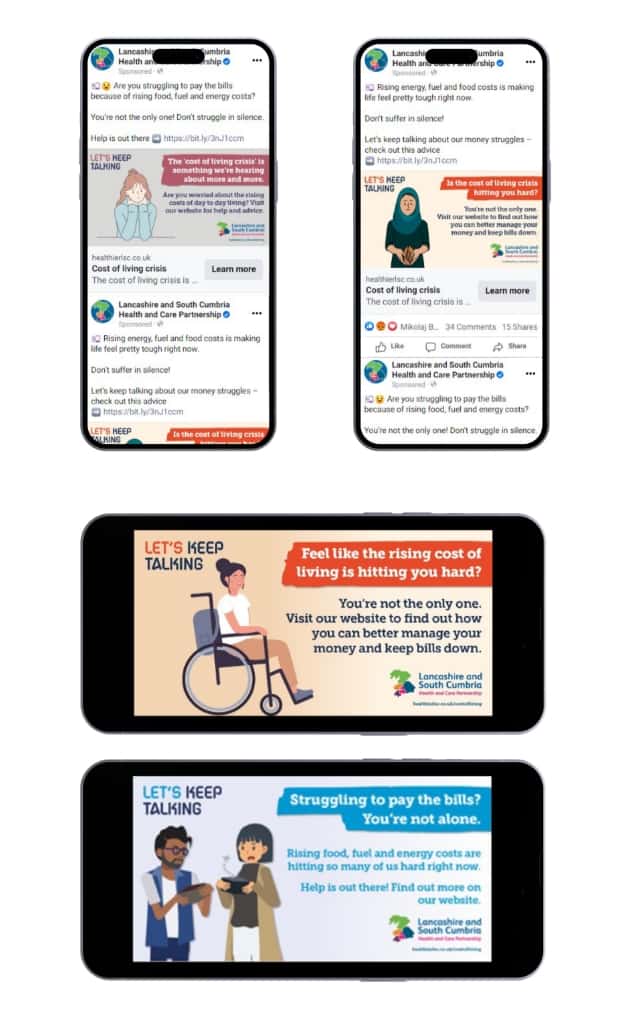 Social Media targeted ads to reach specific audiences based on data from real-time surveillance.
External communications in specific locations are also in place and will be located in prominent areas across the region to encourage people to keep talking and that there is support out there that can help with the cost of living.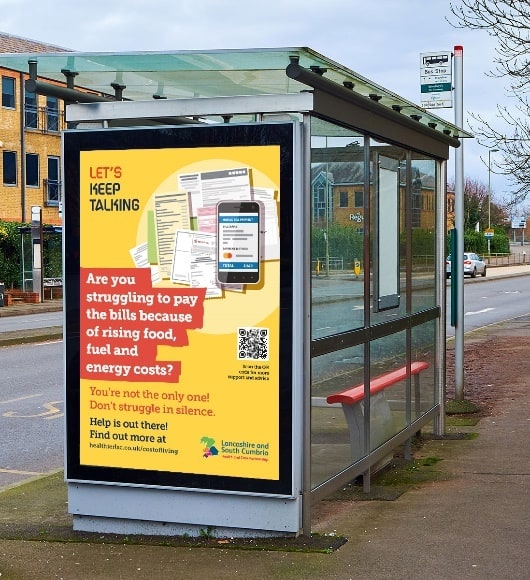 The results
The engagement for this campaign has been a success, hits on the website (calls to action) and the reduction of suicides has been "bucking the trend" and has had a huge impact on numbers across the two areas.
In 2019-20, Lancashire and South Cumbria had the third highest rate of suicide in England, so we hope to continue seeing further reductions going forward as we carry on supporting Healthier Lancashire and South Cumbria with their campaign.
Since the start of the programme of work, suicide rates have reduced by over 16%
Additionally, in March 2021, Healthier Lancashire and South Cumbria Integrated Care System were recognised for their vital work when they were crowned winners of the Connecting Services and Information Award at the prestigious Health Service Journal Awards, for the real time surveillance system for suicide prevention project specifically.
Client feedback…
"I am so proud to announce that we have won the HSJ Award for Connecting Services and Information Award- this is down to all of you and the dedication that you have given to the Suicide Prevention Programme over the last couple of years. 
You are all amazing and I am so proud to be a part of this partnership and drive the work forward."
Louise Thomas, Clinical Network Programme Manager

We have a wealth of knowledge enabling us to help all departments and areas of the healthcare sector with marketing and communications requirements, from large health campaigns, to staff engagement and patient communications, so if you need help solving medical marketing challenges, speak to our marketing for the health sector experts – contact us here or call 01282 858200.
Services
​
Paid social media advertising
Display materials
Social media animated videos
Printed materials
Client Healthier Lancashire & South Cumbria