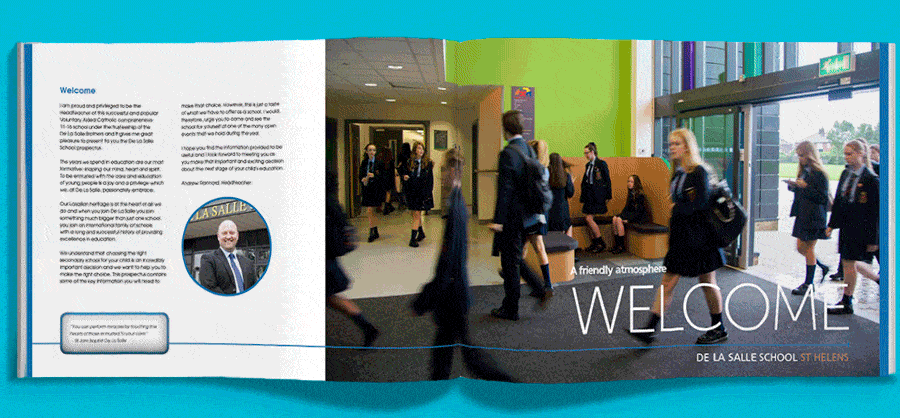 ​
Thanks to the pandemic, we've all experienced living in a homeworking, online world and even though we hope the end is in sight for social restrictions, the fact is that more people than ever before are working remotely and limiting outings into the public. So, has your school adapted in order to carry on reaching your target audience effectively (and hygienically)?! Hint – having a digital, interactive school prospectus created is a great place to start!
Why is digital key in a homeworking world?
Digital marketing activity has already been on the rise over recent years, including prior to COVID-19, due to its limitless reach possibilities, innovative capabilities and adaptability, enabling brands to work flexibly around their budget. Uptake of this marketing method has only increased further following the virus sweeping the globe and forcing us to stay at home.
Printed vs digital school prospectus
The printed prospectus is a key part of school marketing activity and still plays an important role due to its tangibility, which represents the school or college brand and creates a physical perception in the minds of future students and their parents.
However, a digital school brochure needs to be part of every school and college's marketing toolkit, especially during these current times, to ensure they can still reach their target audiences, communicate the school's offering and provide added value for the recipient. Digital allows you to bring your school alive for your audience, even when they're not there physically.
What is an interactive prospectus?
Put simply, it is a digital online version of your printed prospectus and is far from a flat, PDF version of your school brochure! An interactive prospectus design will deliver the same branding and content but with added functionality, to create a more engaging experience for the reader.
Key benefits of a digital prospectus for schools
Reach your full target audience quickly, regardless of a pandemic!
COVID-secure – no sanitising required
Many functionality options available to create an interactive experience for future students and parents
Ability to communicate more impactful and memorable messages, eg. what it's like to be a student at your school
Quick to update and more cost effective to do so, compared with amending an existing printed prospectus
You can be creative. The options are endless when it comes to digital so you can make your school or college look its absolute best!
How can we help?
Creativeworld is an education marketing agency who provide a bespoke service and can produce an interactive prospectus design for your school in line with your specific requirements. We can advise on digital solution options based on your budget and suggest creative ideas that will benefit you the most in line with your school marketing plan.
Some examples of the digital, interactive prospectus solutions we've delivered for other schools and colleges are as follows: 
I-brochure: Mini microsites that deliver the content of your school prospectus through an engaging interface.
Page flip prospectus: A digital page flip that can be housed on your own web portal.
Interactive e-brochure: Contains video content, movement, animation and image galleries to achieve optimum engagement.
To discover how we can help to bring your school prospectus to life, view our new, interactive brochure Spotlight on Education or contact our expert Education Marketing Team here.