Your Social Media Calendar: July 2018 
After being involved in some fantastic social media campaigns across the UK over the past few years, we thought we'd give something back to you. Introducing the new Creativeworld calendar series. We'll be sharing with you a FREE social media calendar every month! We know how tricky it can be to structure a campaign, so we thought we'd bring to your attention for some key dates on social media to help you along the way. Take a look at some of the key dates below in our Social Media Calendar: July 2018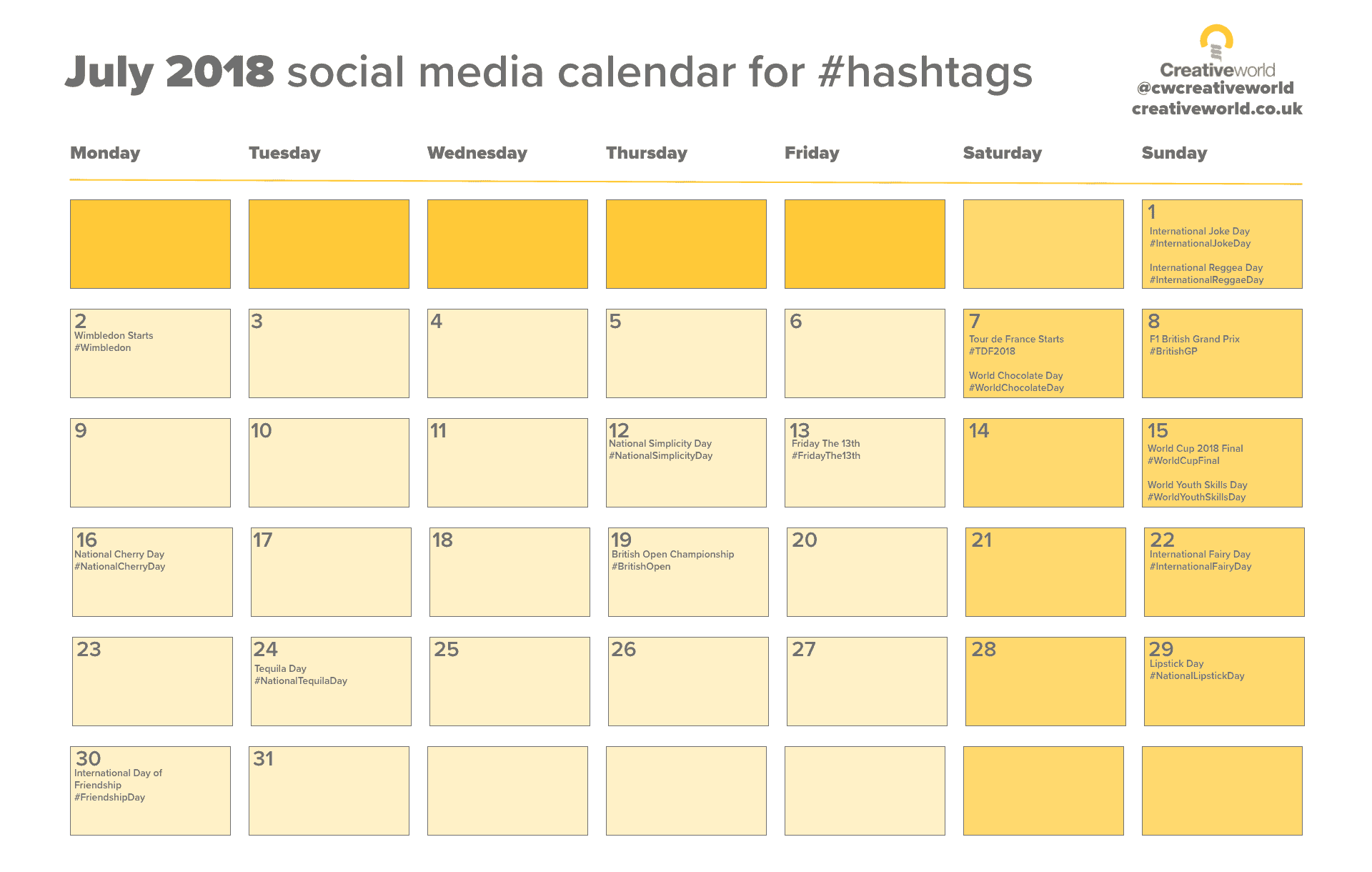 It's coming home ⚽??????
Well….we will see about that one, but one date which will be fixed in everyone's diary is the final of the World Cup on the 15th, which A LOT of people are going to be going football mad for. Don't get caught offside and miss out on this opportunity to score with some hot content.
Speaking of shots, it's also #NationalTequilaDay which will be a tricky one to join in on if you're a B2B company but it'll be a missed opportunity if you work in the hospitality industry – so make sure you have one on us! Another huge sporting event that will cause quite a racket on your various newsfeeds is, of course, Wimbledon. But the question is, will you be serving up some fresh tennis content or giving it a miss? Either way, it's sure going to be a hot topic this month. Also, be sure you don't let the British Grand Prix race by you on the 8th and get involved
Tour de socials
On the 7thwe have the start of the Tour de France for you cycling fans but if you're not a fan of exercise then luckily for you, it's also #NationalChocolateDay on the very same day. If you're a bakery this will be your prime time to shine and show off those choccy chops. Another date you might want to be aware of is the dreaded #FridayThe13th if you miss out on this conversation you may fall upon social misfortune.
There you have it, your Social Media Calendar July 2018 dates. Which ones have got you excited? Take a look at the rest of the calendar to see if there are a few hashtags to help your business join in the conversation…until next month.
Click here to download the FREE Social Media Calendar
In need of some social media support?
Get in touch with our friendly team today for a free no obligation chat on how we could help your online presence.
info@creativeworld.co.uk 
01282858200