Creativeworld are delighted to have been appointed by UCFB to design and build their branded display systems for all their UCAS and recruitment fairs for 2018.
UCFB deliver university degrees in the football, sport & events industries in state-of-the-art, iconic and inspirational locations at Manchester's Etihad Stadium and London's Wembley Stadium. We are incredibly pleased to be working with them this year for their next recruitment campaign.
Our Approach
When it comes to display work, we use a process that suits the client. Working closely with the design team at UCFB, assisting the creative process and offering advice and consultation on the product design and logistics. The display systems that are a bespoke modular design are then ready to use at any given event and in this instance, for UCFB, they will be used at an estimated 38 separate events.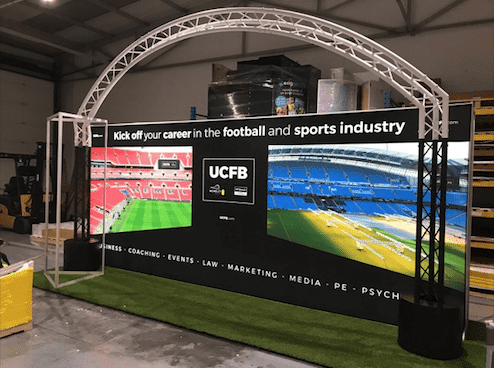 The Brief
Working alongside UCFB's Recruitment Manager, Team Creative are looking to assist in boosting the profile of UCFB this year. Despite already being highly regarded with their "Best on Show" approach, UCFB are constantly looking at ways to enhance their reputation and decided to turn to a forward-thinking marketing agency, Creativeworld, to help them achieve their high aspirations.
Business Development Manager David Bennett had this to say about the appointment:
'We have a fantastic working relationship with UCFB and they trust us due to our professionalism and quality at all times. They really do stand out from the crowd with their high-profile Wembley Replica Arch and now with their creative backlit display system we look forward to the new campaign for this year's fairs.'
We are proud to be associated with this University and Educational institution and we continue to push boundaries with our market research, implementation and design services.
For more information about our Education marketing services, get in touch with David Bennett at dave@creativeworld.co.uk