Creativeworld boosts growth with appointment of Financial Services Marketing Expert Fiona Morphet.
Creativeworld has an excellent track record of delivering the highest quality marketing solutions to clients covering a broad range of sectors and most recently their latest appointment means that they can now offer their marketing capabilities to the Financial Services Sector.
Fiona joins the team at Creativeworld as head of the Financial Services division, a role which will see her lead the team in working with Financial Institutions, Wealth Management Firms, IFAs, Investment Companies, Product Providers, Brokers and Distributors to produce bespoke solutions and supporting collateral, utilising a range of media channels in order to engage a full spectrum of users.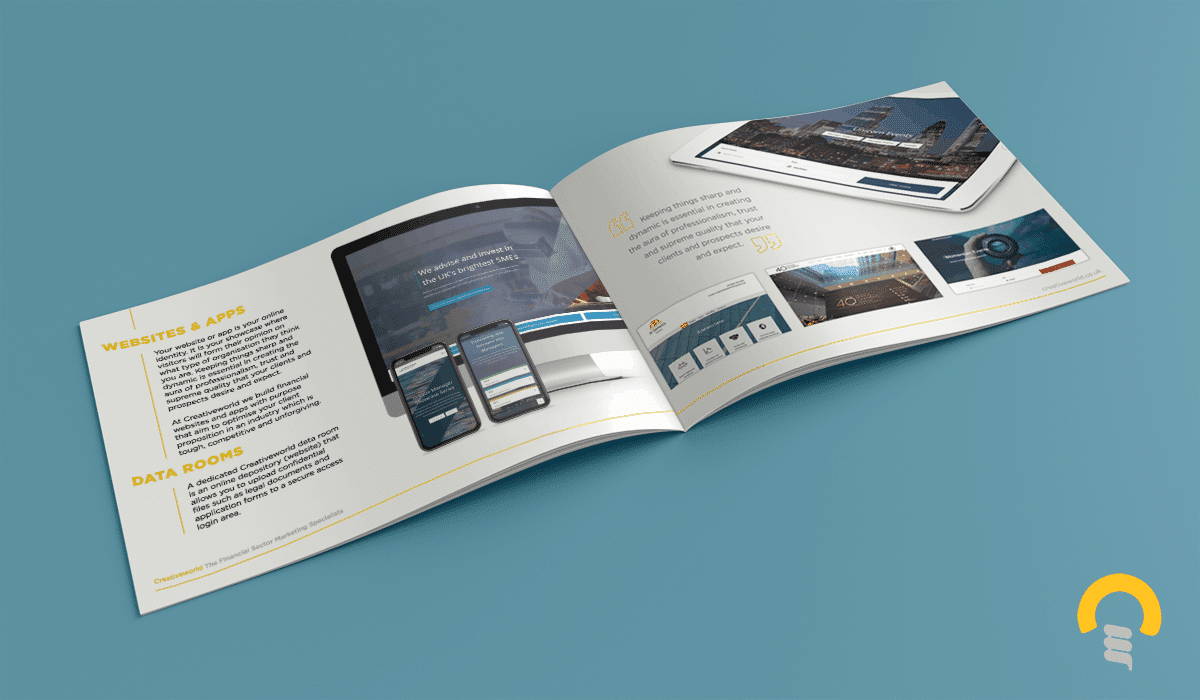 Check out our Financial Services Marketing brochure here to get a full insight into what we can do. 
Simon Swindells, Director at Creativeworld, had this to say about the appointment:
'We are thrilled to welcome Fiona on board at Creativeworld. Fiona's wealth of experience within the Financial Services Sector and technical expertise will prove invaluable to the company, and already she is leading the team on a number of exciting projects which we are looking forward to being able to share with you. As a company, we have experienced some excellent growth within the past couple of years, most recently with our office opening in Ireland, and I am very optimistic for the future, especially when we have such talented individuals like Fiona joining the ever-growing team here at Creativeworld.'
We sat down with Fiona to get her thoughts on joining the Creativeworld team: 
Interview Transcript: 
What is your background and how did you become involved in the Financial Services Sector?
FM: I ran my own digital agency for the last ten years. Very early on we were fortunate enough to become heavily involved with a large corporate finance and investment business who were rapidly expanding their product and service range.
Bringing together a cohesive brand and marketing strategy was essential in getting these products to penetrate an already mature marketplace. Most FS businesses are either seeking to grow their client base and/or capture more funds under management (FUM) – for this to succeed, our work must ensure that the reach of the businesses we are working with continually broadens.
Very quickly, we were able to understand the dynamics of the FS sector and how the different players interacted or competed with each other. A growing number who have seen our work have since become our clients too which is a great validation of what we do.
So whether it's IM's, AR's, fact sheets, interactive presentations or websites etc the trick is to be able to work within the strict boundaries of compliance and regulation, often to extremely tight timescales but always trying to ensure our clients are ahead of the game and their peers.
I have moved to Creativeworld to capitalise on their resources and expertise across multi-channel communications and this will help us to continue to evolve our market leading proposition in a fast moving sector.
What are you most excited about doing at Creativeworld?
FM: I want to continue to provide high-quality, results orientated marketing for businesses operating within the financial services sector. Traditionally, financial marketing is creatively "safe" and quite mundane but when you're competing in an industry that's tough, competitive and unforgiving, you need something sharp that gives you an edge to keep you ahead of the game. I'm looking forward to working with our studio to find new ways of pushing the boundaries and bringing content to life.
It's a fast-changing and challenging marketplace so I want to provide our financial clients with effective and engaging marketing collateral that not only resonates with their audience but also distinguishes them from their competitors.
What do you enjoy the most about your work?
FM: One of the main motivations is sharing in a client's success after the launch of a new project, having overcome their challenges successfully and taking the project from conception through to completion.
I love building relationships with key people along the way and discussing and overcoming obstacles at the various milestones of the project. Sharing in the excitement of delivering a successful project knowing that you've helped a client to win new clients or increase their FUM provides a real buzz and sense of achievement for us too.
What can Creativeworld offer their Financial Services Clients?
FM: We have a proven track record in helping businesses achieve their targets. The FS sector is massively competitive and we have to be a differentiator for our clients in ensuring their message and their own proposition is reaching their target audiences. We are a fully integrated marketing agency which means we offer the full spectrum of bespoke marketing solutions ranging from branding, to print and design, to multimedia presentations, to websites and data rooms, to marketing and advertising.
We work closely with our clients, often as an extension of their in-house marketing team, to understand their challenges and provide engaging and effective marketing solutions. We take away the hassle that can come with bringing financial products and services to the market, meaning that our clients can focus on the actual delivery.
How is Creativeworld different to other marketing agencies?
FM: Financial products and services can be highly complex and difficult to understand; but with more than a decade of high-performance for clients in the Financial Sector, we understand the market space as well as the financial terminology, compliance and regulation along with the constant need to adapt to changes in legislation, often at short notice and through multi-layered sign-off procedures.
It's this understanding of the Financial Services Industry combined with over 30 years of delivering award-winning design and digital marketing that really sets us apart from other agencies.
What do you like most about Creativeworld so far? 
Creativeworld has a seriously impressive track record over many, many years working with blue chip clients which speaks for itself really. The sheer quality of work produced by our in-house studio is mind-blowing. I'm looking forward to working with the team to build on this success and to deliver equally high-end marketing solutions and collateral to our financial clients.
The CW team are a fairly decent bunch of people too – very friendly and approachable with a great sense of humour. Whatever businesses we are working with, it has to be fun for everyone involved. The best results are achieved when everyone enjoys the mission.
For enquiries about our Financial Marketing Services get in touch with Fiona on:
or call us on 01282 858200